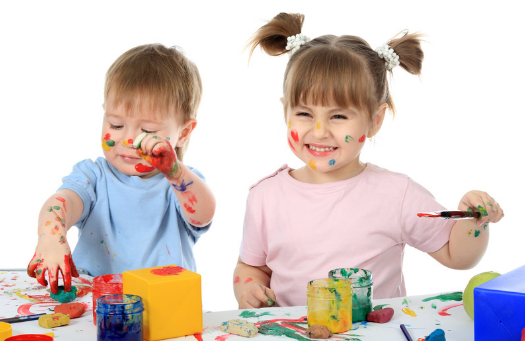 As much as we love them, Dad's tend to be notoriously difficult to buy for. Ask them for gift ideas and they will invariably say, "Just a bit of peace and quiet", or "There's nothing I need, don't waste your money". Then he'll duck back behind his newspaper or disappear into the shed. Infuriating, really.
Now Father's Day is upon us and your old man is doubtless being as helpful as ever. Which is why most Father's Day gifts are bought at the very last minute (in other words, today). So here are our suggestions for the things he wants – and the things he almost definitely doesn't…
DO get the kids to make him something
From their creative "crafting" attempts in toddlerhood to amusing DIY cards or more impressive artworks when they're older, anything made by his offspring will have him swelling with pride.
DON'T resort to novelty socks or ties
They might evoke a forced, hollow laugh upon unwrapping, but they will swiftly disappear to the back of a drawer until unearthed by baffled archaeologists centuries from now.
DO get posh booze
What kind of father wouldn't like a swishly packaged, lovingly selected tipple on his special day? A case of fine wine, a bottle of single malt whisky or artisanal gin, even a mini-cask of his favourite ale… Cheers, Dad. Hic.
DON'T go gizmo, go retro
Unless he's a dedicated tech fiend, gadgetry can leave your average father befuddled and feeling a little lost. Instead, opt for nostalgia with a vinyl turntable, vintage books or a retro-styled DAB radio. Boys' toys like Scalextric or Air Hockey will have him reminiscing back to the good old days, just as long as you let him win.
DO give him a lie-in
More of a Mothering Sunday tradition, but an extra hour or three in bed can be a rare delight for dads, too. So switch off his alarm, then have a slap-up breakfast and his favourite newspaper waiting when he does emerge. Don't do breakfast-in-bed – it gets crumbs everywhere. Instead, ensure bacon and egg stacked with hollandaise is wafting delicious aromas through the house, driving any nearby vegetarians/ dogs insane.
DON'T buy him spa treatments
Vouchers for some sort of "pampering" it might seem like the logical extension of a grooming gift, but beware. He'll be deeply self-conscious. He'll feel exposed in his towelling robe, like a spy about to be assassinated. He'll secretly resent it. Especially if he has to wear those weird slippers or (even worse) paper pants.
DO consider grooming gifts
Don't try to metrosexualize him if he's resistant, but grooming treats are usually appreciated and precisely the kind of thing he'll rarely buy for himself. It's hard to go wrong with fragrances, skin care or hair products. He'll be at his handsome best in no time.
DON'T dismiss things as 'too obvious'
If he's dropped unsubtle hints about wanting something boringly practical – say, a power drill, garden shears or plain leather wallet – swallow your pride and buy it. Many a disappointed dad face has resulted from people mistakenly believing something is "too obvious" and trying to surprise him instead.
DO give him a ring
Not the jewellery type (that would be weird). The phone call type, if you can't see him in person. He'll probably harrumph about "making a fuss" and say "I'll get your mum" within two minutes, but he'll love it really.
Don't get him self-help books
Avoid self-help book that sends a passive-aggressive message of his parental shortcomings.
DO tap into his hobbies
Men tend to be obsessive hobbyists, so indulge his latest fixation – whether it's angling or archery, meat-smoking or golf. For runners, how about wireless earbuds or a foam roller? If he is golf mad try a new driver or putter, spends his weekends in the shed a hardware voucher. Your mother might roll her eyes, but his will light up.
Don't resort to tacky novelty gifts
As tempting as it is it is best to avoid gimmicky gifts, you may get a little giggle out of him but inevitably they will end up at the back of his draw along with his novelty socks or pride of place at your next garage sale.
DO go for a pub lunch
You can keep your Michelin stars and tiny portions. A hearty Sunday roast, washed down with a pint or two (let Mum drive), will ensure paternal contentment – especially if he doesn't have to pick up the bill for once. Make a reservation, though. If there's one thing dads find disappointing, it's poor organisation. And queues. And hunger. OK, three things.
DON'T buy him flowers
You might think it's modern, but he'll snort with contempt – and not just for hayfeverish reasons. Plus he will also suspect they're really for Mum.
DO go foodie
Whether he fancies himself as a home chef or just enjoys eating, the way to his heart is through his stomach. Meat hampers, chilli sauces, coffee subscriptions, jars of posh pickles or pork scratchings… anything that makes him lick his lips, rather than sheepishly mumble, "That's lovely, darling".
DON'T get driving gloves
I am guessing he is not Jeremy Clarkson or Ryan Gosling on the streets of California in the movie Drive. Although if he actually is, perforated leather ones are best!
DO a photo montage or frame his favourite things
Frame something for him to stick on his study wall and gaze at adoringly. A montage of family photos, his favourite book cover or album sleeve, an old sports kit or military uniform, a cartoon or map that he likes. It might be too late for this year but bear it in mind for next time.